Полное имя: Alicia Marie Ballenger
Дата рождения: 15 декабря 1978 (в некоторых источниках 1973)
Место рождения: Наугатук, Коннектикут, США
Место жительства: Лос Анжелес, США
Рост: 175 см
По образованию Алисиа Мари Белленджер журналист, она закончила Колумбийский Университет в Нью-Йорке. Вторым высшим образованием Алисии является неврология, которую она изучала в Университете Коннектикута.
Алисия является автором книги «The BOOTY Bible», которая получила звание «выбор читателей» на Амазон. Также Алисия является ведущей фитнесс программы на MTV и со-автором видеоуроков "30-Day Buttlift" и серии роликов «CARDIO WORLD» для детей. Алисия ведет собственную колонку в журнале Oxygen, а также она писала статьи для десятков фитнес изданий включая Muscle & Fitness HERS, Fitness RX, SELF и Fitness и тд. Помимо этого Алисия появлялась на обложках многих журналов как модель и стала первой в истории Мисс Журнал Muscle & Fitness в 2006 году.
Многим Алисия известна прежде всего как косплеер. Ее самые известные образы это Шторм из Людей Икс, штурмовик из Звездных Войн, Poison Ivy из комиксов DC и тд. Алисия обожает Варкрафт, Стар Трек и играет во множество компьютерных игр. При этом она успела стать IFBB Pro в фитнес бикини, где продолжает периодически выступать. А еще у Алисии есть собственная команда стримеров на Твич-ТВ.
Сейчас Алисия работает над своей второй книгой.
2015 IFBB Greater Gulf States Pro — 13 место
2015 IFBB Northern California Pro — 5 место
2015 IFBB Musclecontest.com Pro Bikini — 5 место в общей возрастной категории
2015 IFBB Musclecontest.com Pro Bikini — 1 место в мастерах
2015 IFBB Legends Pro Bikini — 11 место
2010 IFBB New York Pro Bodybuilding & Bikini Championships — 11 место
2009 IFBB Europa Super Show & Supplement Expo — 12 место
2008 NPC Team Universe Bodybuilding, Fitness & Figure National Championships — 1 место
2008 NPC USA Bodybuilding & Figure Championships — 2 место
2007 NPC Arnold Amateur Bodybuilding, Figure and Fitness — 2 место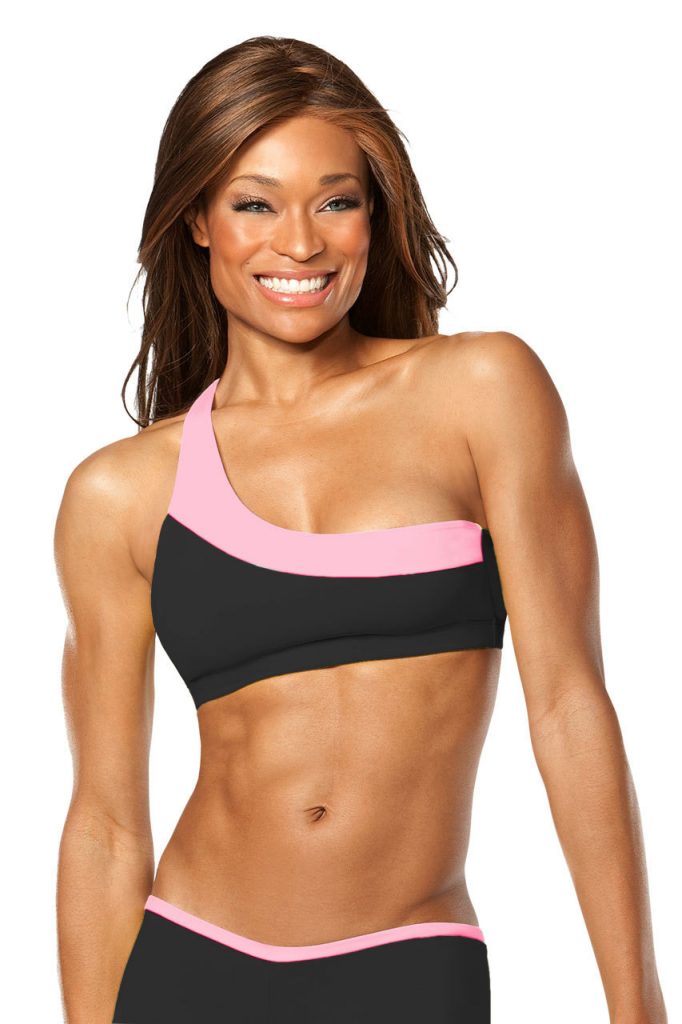 Born and raised in Cleveland, Ohio, Alicia Marie AKA "The Machine" is a professional Figure and Bikini Competitor, Fitness model, TV personality, and an author.
Since she was a child, Alicia was always fascinated by the women featured in comic books, which inspired her to become active throughout her childhood and teens.
By the time she entered college, she started training hard in the gym, and has since managed to build an amazing physique. She's also achieved impressive strength records, squatting almost 300lbs in her junior year in college.
Eventually, she started competing in bikini shows, winning many, and becoming a professional competitor. Alicia has also become one of the world's most recognized health and diet gurus, and she's reached many people across the globe with her story.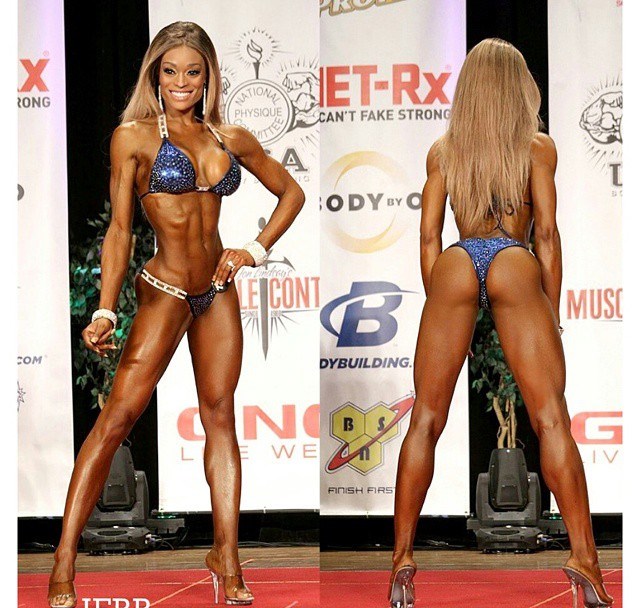 "Don't underestimate the power of rest, stress, life, 'adulting' – we often forget how much we need. Get your ass to sleep!"
Athlete Statistics
Full Name: Alicia Marie
Weight
Height
Bust
Hips
125 — 135lbs (56.7 — 61.2kg)
5'10" (177.5cm)
34»
36»
Waist
Year of Birth
Nationality
24»
1975
American
Profession
Era
Fitness Model, Professional Figure Competitor
2010, 2000
| | |
| --- | --- |
| Weight | 125 — 135lbs (56.7 — 61.2kg) |
| Height | 5'10" (177.5cm) |
| Bust | 34» |
| Hips | 36» |
| Waist | 24» |
| Year of Birth | 1975 |
| Nationality | American |
| Profession | Fitness Model, Professional Figure Competitor |
| Era | 2010, 2000 |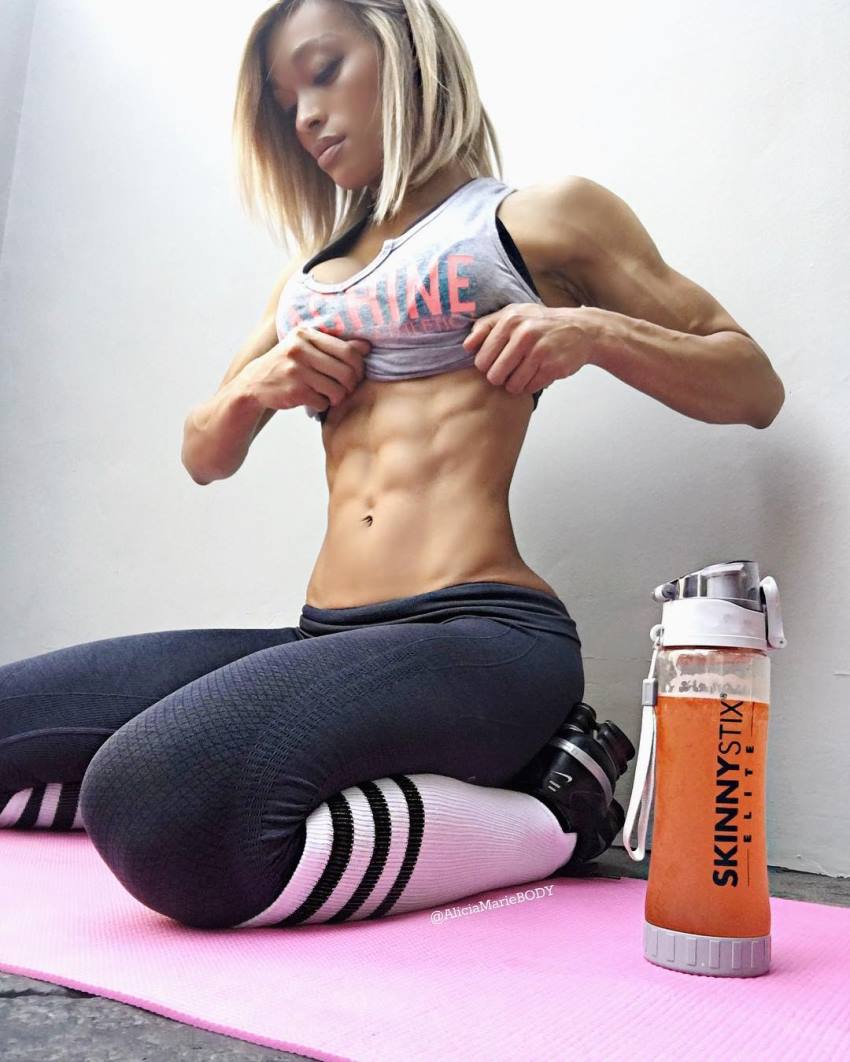 "Saturdays are a big gym day for me, so sometimes I like to wear something that reminds me of what I am… a machine."
Accomplishments
Competitions
2015 IFBB Greater Gulf States Pro, 13th
2015 IFBB Northern California Pro, 5th
2015 IFBB Musclecontest.com Pro Bikini, 5th
2015 IFBB Musclecontest.com Pro Bikini, 1st
2015 IFBB Legends Pro Bikini, 11th
2010 IFBB New York Pro Bodybuilding & Bikini Championships, 11th
2009 IFBB Europa Super Show & Supplement Expo, 12th
2008 NPC Team Universe Bodybuilding, Fitness & Figure National Championships, 1st
2008 NPC USA Bodybuilding & Figure Championships, 2nd
2007 NPC Arnold Amateur Bodybuilding, Figure and Fitness, 2nd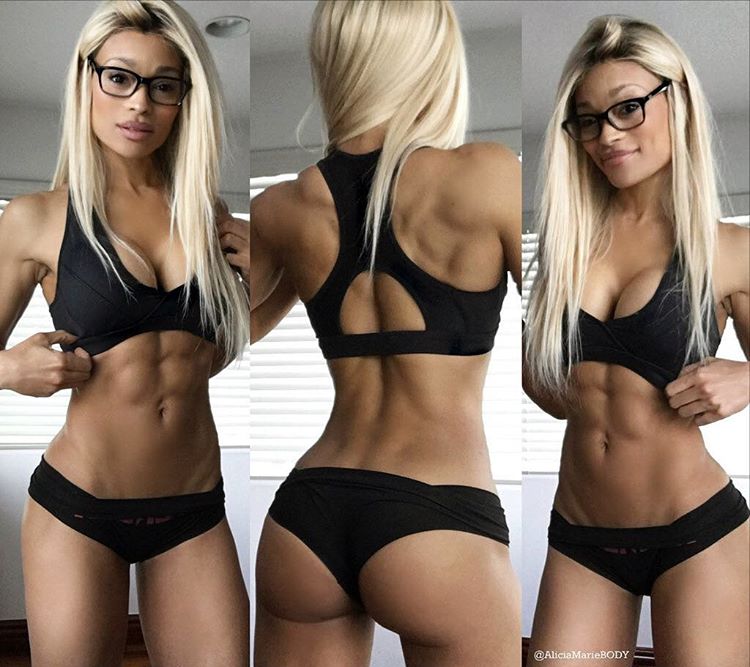 Biography
An Athletic Child
Alicia Marie was born on December 15, 1975. She's one of two other sisters, Michelle and Elizabeth.
As a child, Alicia hoped that one day she'd look like the women who inspired her from the comic books, and throughout her entire childhood and early teens, Alicia stood out in various sports, such as track and field, softball, martial arts (Kali, weapons) and gymnastics. By the time she entered high school, Alicia had already started working out with intensity in the gym. It was at that point, she noticed she possessed great strength and endurance.
Alicia realized she was strong and tireless when working out, and she quickly used it to her advantage. She would go to the gym and lift an incredible amount of weight for someone her age, and because of that, she got the nickname, "The Machine" from her friends.
Turning Fitness Into a Career
During her college years, Alicia dedicated more time to weightlifting than before, and it wasn't long before she noticed real changes, and progress in her shape.
She would often squat over 250lbs, impressing her friends and trainer. However, Alicia admitted that lifting so much weight wasn't always the right thing to do, as her knees suffered because of it.
Alicia later graduated from college and started pursuing her fitness career full-time. She saw Los Angeles, California, as the city with the best opportunity for her to chase and create a successful career.
After moving to Los Angeles, it didn't take Alicia long to get recognized for her potential, and she soon found herself modeling for several reputable modeling agencies. Her physique was also improving day by day, and it was only a matter of time before Alicia started looking into fitness competitions.
"They used to call me 'The Machine' at my old gym – well, that was one of the nicknames! I like feeling strong like I can take care of myself. I like feeling like I can kick anyone's butt."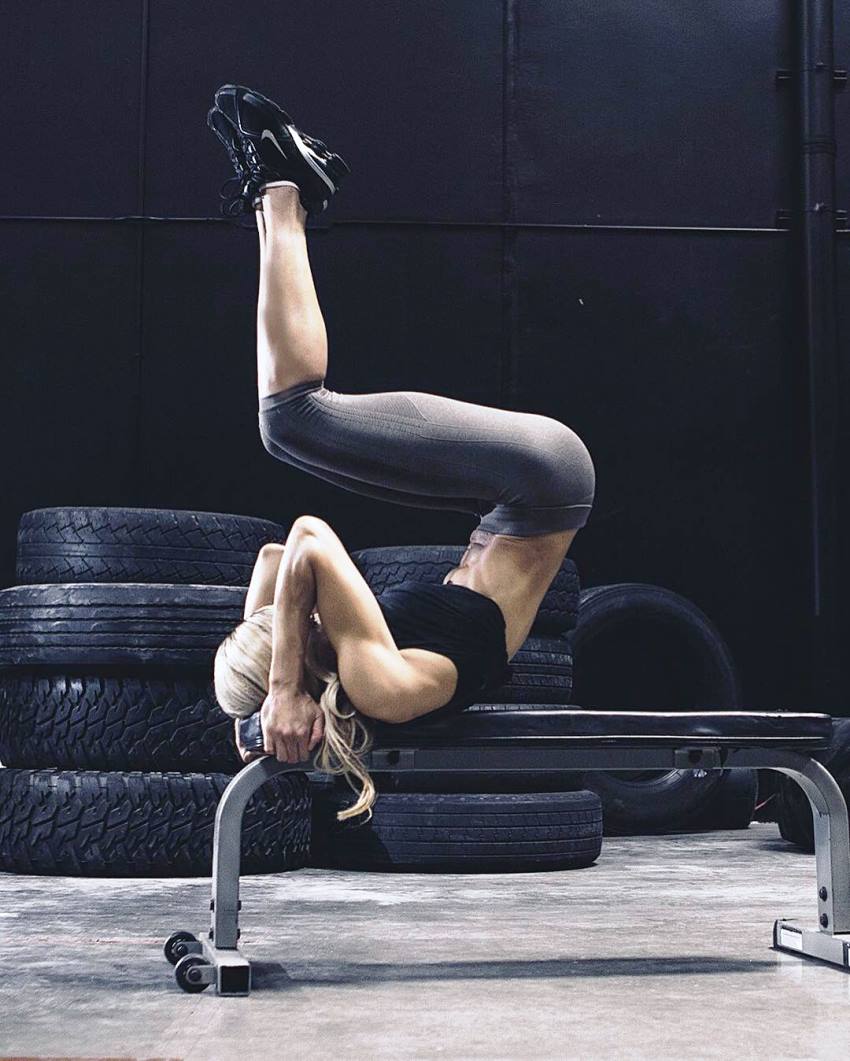 Becoming a Figure Competitor
After several months of preparations, Alicia's first local show came in 2003. After the competition, Alicia said she was hooked and wanted to compete in more shows.
She continued competing locally and regionally for a few years, winning numerous figure and bikini shows. Eventually, she took part in her first big competition, the 2007 NPC Arnold Amateur Bodybuilding competition. In the class of Figure and Fitness, where she came in 2nd place.
After placing 2nd at the Arnold Amateur, Alicia took some time off the stage to look back on what she could have done differently and to further improve her physique. She came back the year later, aiming to win her Pro card and get into the professional league of bodybuilding.
Alicia fought hard and competed at the 2008 NPC USA Bodybuilding & Figure Championships, but she was "disappointed" after placing 2nd . However, she didn't have much time to think about the loss as her national competition was only 12 weeks away.
Pro Card
After 3 months of hard work in the gym and dieting, Alicia stepped on the stage at the NPC Team Universe Bodybuilding, Fitness & Figure National Championships, and managed to take home 1st place, earning her Pro card.
According to Alicia, one of the reasons for her quick success was her focus on aesthetics, rather than on endurance and strength.
She believed that her shoulders were her lacking body part and after several months of training, Alicia developed an all-around, impressive physique which got her the National Figure title and the Pro card.
Later Competitions
Alicia's professional debut came in 2009 at the IFBB Europa Super Show & Supplement Expo, where she came in 12th place.
The following year she took part at the IFBB New York Pro Bodybuilding & Bikini Championships, placing 11th out of 38 competitors.
After the New York Pro Show, Alicia said how she started to feel both mentally and physically exhausted from all the competitions and decided to take a longer break. According to her, she focused more on modeling and growing her personal training business during that period.
Alicia made a comeback 5 years later, taking home 11th place at the 2015 IFBB Legends Pro Bikini. That same year, she participated at the IFBB Muscle Contest Pro Bikini, this time, winning the show and impressing everyone with her success. Alicia competed in 3 more shows in 2015 – the IFBB Greater Gulf States Pro, IFBB Northern California Pro, and the IFBB Muscle Contest Pro Bikini, before taking a longer break from competitions once again.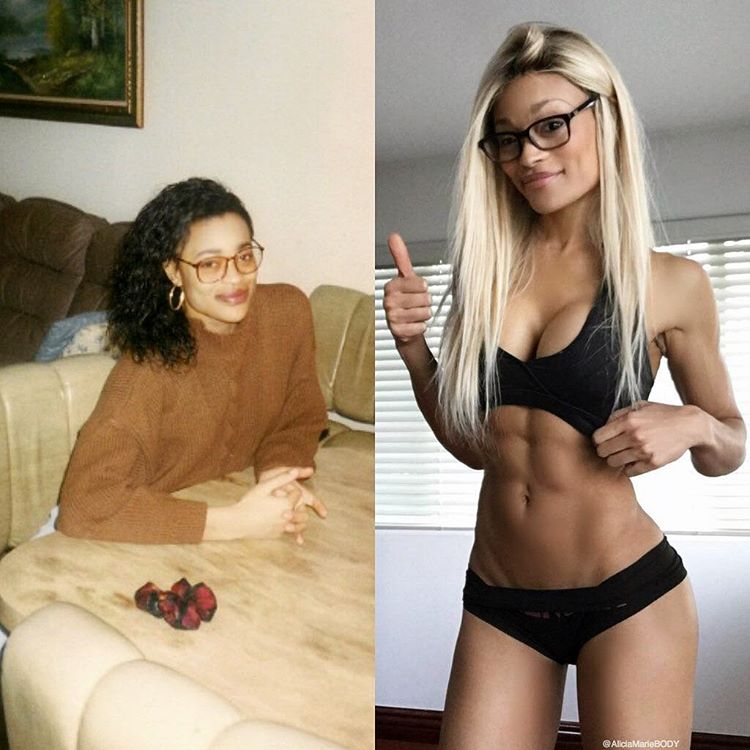 Alicia before and after.
Life Outside Competitions
Besides being a competitor and a fitness model, Alicia is a Television personality, and also an author of a well-known book about fitness, dieting, and lifestyle.
Since stepping off stage in 2015, Alicia has started her personal training and clothing line business, and has gained a lot of fame through her social media sites, where she posts pictures of her awesome physique which motivates people around the world to live healthier lives.
When asked about her plans for the future, Alicia said she is working on her E-book, and plans on growing her clothing business. Lastly, this is Alicia's message to all of her fans; "I can talk all day about being yourself and doing what makes you happy in the long run. No one is going to give you what you want. If you want something go get it, dang it. Stop waiting for opportunities to drop in your lap. Why wait on 'fate'?
Bring the life you want to yourself. That goes for every single little thing that you want for yourself in this life. It is not about the destination, it's the journey. You grow by challenging yourself to get it, whatever it is. And then, just taking the bull by its proverbial horns. Everything you want – you have to go out and get yourself. That is the truth."– Alicia Marie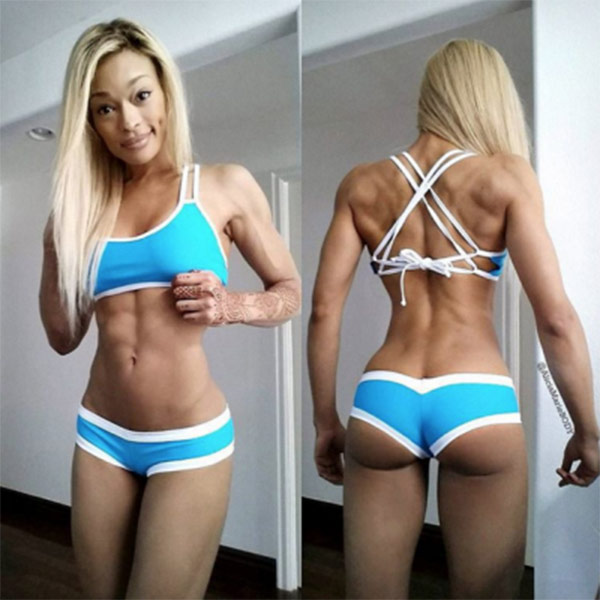 "One of my favorite classic moves for chiseling ABS , are bench roll-ups or dragonfly crunches."
Training
Cardio
After she stopped competing, Alicia said she doesn't do as much weightlifting as before, and now focuses mostly on cardio.
According to Alicia, she loves doing cardio up to 5 days a week, usually performing it on a treadmill, stepmill, and runner. Alicia advises that cardio is something that should be done often, not just because of cardiovascular health, but also because it helps keep a "clear mind",
Favorite Exercises
Captains Chair for abs: Alicia likes this one because it specifically targets the lower section of abdominal, which is something that many people usually have problems with, according to Alicia.
Walking Lunges – "One of the best exercises for glute and hamstring development," says Alicia
Jumping Rope – This exercise works everything, Alicia claims. It's both a HIIT and workout in one. She believes this exercise is great for arms, core, legs, and calves development, and is also beneficial for the cardiovascular system.
Workout Routine
During her competition days, this is what Alicia's training split looked like;
Cardio or Calves, Back/Biceps, Abs
Triceps, Light Chest, Cardio (basic like the stepmill 30 mins)
Off/Cardio only or martial arts (Eskrima)
Legs/Glutes, Light cardio for stretching
Martial Arts (weapons, Kali)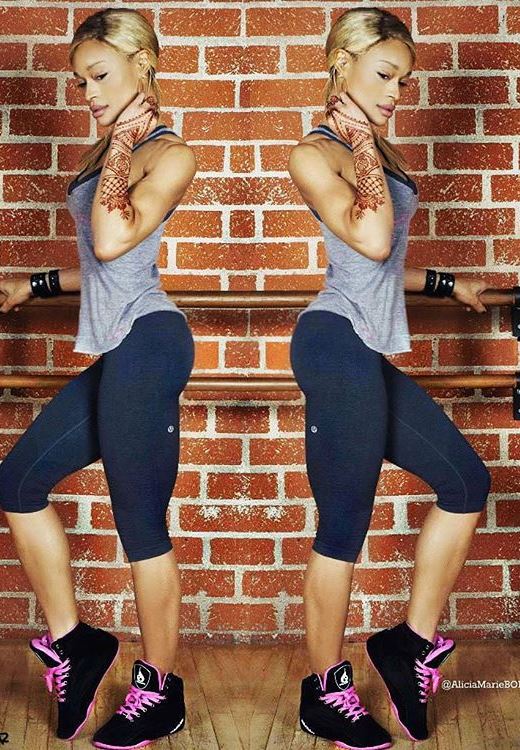 "If you have too much sugar in your diet – you'll never be able to get the results you really want. Save it as treat only. Cut back wherever you can. As soon as I cut back on sugar, it's easy to get my abs to shred up."
Nutrition
Dieting
Alicia allows herself to cheat occasionally, but prefers to eat clean most of the time. According to her, she knows what her body likes, but also knows what she has to eat in order to look good.
There is no dairy in Alicia's diet because she can't tolerate lactose. She also said how sweets are her biggest weakness, and it takes a lot of willpower to "resist them".
Alicia is a big fan of carb-cycling, especially when preparing for a competition. It's something that gives her the best results when cutting, Alicia believes.
These are Alicia's basic tips for anyone who wants to get in shape:
1) Be consistent
2) Stop Whining (results or excuses?)
3) Get your diet right.
Supplementation
When she isn't competing, Alicia doesn't use many supplements. The only ones she likes to use are probiotics, multivitamins, and omega fish capsules.
However, when she's preparing for a competition, Alicia will usually add a fat burner, pre-workout and possibly a whey isolate to her supplement stack.
@aliciamariebody Author:The Booty Bible🍑 Costume Creator/Fitness Pro/Gamer 🎮💪🏽 ⚡️COSPLAYER⚡️ #MKKollective @mansports 👾Ci 🤟🏽👂🏽/Survivor🎀 [email protected]
RINKAH's bod is workout inspo 😭😫💪🏽 Flashback to Jan and @anime_los_angeles I loved this costume and had been wanting to make it for a long time! I made it happen for #ALA Are you thinking #2021 con ideas yet? I had so many planned — some I'll just show you — others I'll save for next season. 😄😉 📸 @dtjaaaam 🙌🏽🙌🏽🙌🏽🙌🏽❤️❤️❤️ . #FireEmblem #Rinkah #aliciamariebody #costumer #cosplay #maker #anime #ala #games
PLAY #PredatorHuntingGrounds next week (April 24!) — you'll be able to customize your girl . 🙌🏽😄🎮❤️ @predator_huntinggrounds @illfonic_llc This is still pretty surreal and something I've been sitting on for a long time 😄 I love Predator (and military style) — can't tell you how badass do I feel that the game is about to come out next week! ➡️ April 24th . @playstation We got to test the BETA couple weeks ago — hyped to play— HOWWWW do you like that female predator tho . 😄❤️🙌🏽 Thank you @illfonic_llc . #predator #predatorhuntinggrounds #aliciamariebody #illfonic #ps4 #videogame #mocap
7of9 today because. why not 🖖🏽 This past weekend was originally @wondercon so a lot of us dressed up anyway 😄✊🏽 I'm keeping busy! ❤️ Workouts have been sporadic — ashamed to admit. Trying my best on that front but not beating myself up over it. Not the time for that. ❤️ Workout apps are clutch rn as well as quick walks and jogs. Nutrition wise: Don't just completely neglect your health in this even though your usual fitness routine isn't the same. Watch your sugar intake and mindless snacking (boredom = sneaky calories). Try to get some fresh air. Be sure to Social distance — 😷🚫😷 Now that everyone and their grandmother has seen #TigerKing . what is everyone watching? 📺 This bodysuit was created for me by my talented babe friend Lauren at @castlecorsetry . #StayInsideshow @sideshowcollectibles #borg (We need a PF of this classic babe! 😉) 😭😭❤️ @startrek #startrek #trekkie #7of9 #cosplay #aliciamariebody
Respect the rainy day drip, SOOsan💧☔️ Where I spend most of my time these days — craft studio making stuffs. rn in my fave sweater ❤️🧡💛💚💙💜 It's wet af out so perfect timing for these shoes @vessifootwear sent meeee!! They're stretchy squishy comfy and WATERPROOF knit! 😄 As an Angeleno I don't have rain boots (dih) so these will do for my grocery run! If we ever get to hang at the beach again — I'll be straight bet 👍🏽 They have many and styles for women and men i had a tough time choosing 🤔Give em a check out 😉 ➡️ VessiFootwear.com 👉🏽 Quick blurb in my stories 👟 #aliciamariebody #vessifootwear #socal #losangeles #ad #gift
💚💚💚 Quick #cosplay of my #DnD Orc BARBARIAN because going LIVE in 5 mins at Twitch.tv/GameStop playing Dungeons and Dragons @dndwizards 11aPST For @treehouseforkids #charity Produced by @lostodysseylive And brought to you by @gamestop HERE: Twitch.tv/GameStop MASSIVE THANK YOU to the genius of #mintbrushb for the art 💚💚💚 I'm n00bing it out with this all but COME SAY HIIIIII #aliciamariebody #gamestop #lostodysseyevents #cosplay #dungeonsanddragons #saturday
Crafting and listening to my dog snore 🙃 Making fun pieces for the beautiful characters of @mythdivision right now. I'm going to be their assassin NIMAA ! @the_real_tatiana_neva is their ruby-haired high priestess ISELDA! Stuck inside — but I have projects I love that I am throwing myself into. Creative stuffs 🙌🏽🙌🏽🙌🏽 Even if I make a huge mess of my place 🤷🏽‍♀️🤷🏽‍♀️🤷🏽‍♀️ Truth: My workouts are pretty lame rn NGL 😞 modifying the way we do things for the short term! Gotta adapt. What are some things you are doing to keep up with your fitness if anything at all? Have to get used to it — I don't foresee gyms opening anytime soon. Hotbeds for germs! I've actually started running. Out of cardio desperation 😄 Those of you who don't know this about me — it's the equivalent of pigs flying. #mythdivision #nimaa #iselda #ramongovea #costumer #cosplay #craft #fitness #abs #motivation
What are you doing tomorrow morning at around 11a PST?? 🤔 COME THROUGH and say hi! We'll be adventuring @dndwizards LIVE for charity! 🔮🏺🪓🗡🕯💫 #DnD #ttrpg I'm super n00b — but rolling with some of the game's heavyweights this round. 😱😱😱 DM @stormzeye along with @deborahannwoll @satinephoenix @joemanganiello @jasoncharlesmiller We will be playing for @treehouseforkids benefiting kids in foster care❤️ Produced by @lostodysseylive and brought to you by @gamestop Excited to debut my character and to learn by fire with these amazing players. 11am pst SATURDAY/tomorrow on GameStop's Twitch channel ****Official LINK in stories! #dndlive #dungeonsanddragons #lostodysseylive #aliciamariebody #ttrpg
WOW! My Birds of Prey Harley as art 😱 💕💜💛 This artwork was created by @photoshop_jedi Alon Avissar is so mind-blowing beautiful I had to share 😱 I created this costume hair and makeup cosplay in collaboration with @splathairdye @birdsofprey #BOP Art is keeping my spirits afloat rn! I'm going to post more of what I'm seeing because y'all are too TALENTED. 🤟🏽❤️ Some insane work by @killustrate_illustrations tmw. 😱 FYI — you know that @birdsofprey is now available to watch digitally — you can catch it on @amazonprimevideo @google.play.store @vudufans Watch and tell me what you think!! ❤️💜😊 ▶️ I used @splathairdye to create the hair for this cosplay SplatHairColor.com #splathairdye #harleyquinn #birdsofprey #art #fanart @dccomics #cosplay #costumer #aliciamariebody
#QuaranStyle ⚔️ 💪🏽 Oh Hai it's been a minute! I made a quick #MK mask out of foam to wear over my normal washable craft mask for any grocery store runs 😄 Cheers people up I think! This is the first day that I feel like . myself? Quarantine SAPS my energy! I'm a people person — so I draw my energy from being around people. this has been hard but I'm hanging in there. #StayAtHome I'm creating some cool stuff for @mythdivision (so excited!), doing home workouts (i also ordered some home equipment- I'm waiting for it!), watching a LOT of YouTube tutorials and on the side, finally learning @dndwizards #Dnd it's been a ride 🤗🤗🤗 What are you guys doing in all of this? I know some people are in states like mine where movement, due to #covid_19 is more restricted than others — but what are you using this time for if you're at home and have more time on your hands? Is it making you more creative or is it causing anxiety and making you not want to do a dang thing? There are no right answers. Whatever you do to get through this is the right thing. Also: #predatorhuntinggrounds beta test has been up so playing that. @illfonic_llc #PS4 . you might notice someone familiar. 😉😉😉❤️❤️❤️ Yooooo I have been asked to share some home workout moves — they're lame because I don't have a home gym bc my condo has a huge nice one (now closed) and I always had @goldsgym 😞😞😞 I will never take the gym for granted again 😭😭😭💪🏽 @mortalkombat #mk11 #aliciamariebody #fitness #motivation #costumer #cosplay
Box Openingggg 📦😄 BECAUSE we're all just at home cooped up inside AND I just feel better "dressing up" than not — today I'm ABBEY CHASE from the #DangerGirl ⁉️comics created by @jscottcampbellart @andyhartnell FINALLLLLY opening my @sideshowcollectibles Premium Format figure of Abbey Chase #54/1000. I've been waiting until I could give her her due. Sorry for being so goofy but I'm so in love 🥰 I love Danger Girl comics and I'm obsessed with #Sideshow and I definitely needed something to smile about rn — this one just exceeded my expectations ❤️❤️❤️❤️ THANK YOU @sideshowcollectibles ➡️ Sideshow.com Check out everything but warning you will want everything too😄 Do you have any Sideshow at home? Brag to me pls 😍😍😍. #abbeychase #costumer #sideshow #aliciamariebody
#SHESpawn Sunday flow. . Go off sis 😅 Still #SPAWN because I'm not taking this off 🎮🖤❤️ except my little nails😕 😄 COME WATCH watch the @mortalkombat tournament #FinalKombat on @youtube w me rn. Spawn gameplay reveal etc etc ➡️ https://www.youtube.com/mortalkombat You can SWIPE 🆙 to watch in any of my stories today 😉 The real MVPs: @mortalkombat @gamestop @toddmcfarlane #MKKollective #costumer #artist #cosplay #aliciamarebody #fitness
Respect the SPAWN drip 💧. Yo currently watching #FinalKombat LIVE rn! @gamestop @mortalkombat #MK11 ➡️ https://www.youtube.com/mortalkombat Really excited to shoot this for real later this week — at least you can see the costume pieces and a better version of the makeup — why MU tests are always important especially if using SFX and prosthetics. Thank you so much @gamestop @mortalkombat . 😭❤️😭❤️ Being a part of the #MKKollective pushes me to create and think bigger🙌🏽🙌🏽🙌🏽 Also picced: SPAWN coffee decaf bc my nerves hate caffeine — and me as the tool I started as. I did my own makeup and I created all the armor pieces (eva foam) and the magic cape 😄 (hours and hours!) and the chains belt — my brain is fried. I'll add build notes to my @deviantart this week! But here are a couple important nods: The prosthetics themselves were hand sculpted by makeup SFX artist and friend Kristal @dreamweaverscostumes ❤️ 🎨 The bodysuit — lordy custom brushed by my lovely Tanja @shapeshifterzco ❤️🙌🏽 More later I have to shower! I actually want to be SPAWN all day. Can I? 😆😆 #gamestop #mortalkombat #aliciamariebody #spawn #mk #kombat #sponsored #costumer #makeup #videogame #cosplay
aliciamariebody's Photos shared recently. Find All Instagram Photos and Other Media Types of aliciamariebody in Alicia Marie Instagram Account.